Full Text of Paper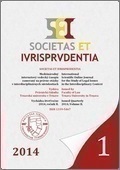 Read paper (PDF)
---
Source Type: Journal
Document Type: Study
Document Language: English
Published on: 31. 3. 2014
File Format: PDF
File Size: 681 kB
Martin Andrejčák
In: Societas et iurisprudentia • 2014 • Volume 2 • Issue 1 • Pages 197-208 • ISSN 1339-5467
Abstract: Acquisition of information about the status and level of human resource management in enterprises/organizations/corporations is the subject of the personnel audit, the importance of which, as illustrated by the current theoretical and practical knowledge, continues to grow especially in the context of realizing the importance of the quality of human resources in the enterprises/organizations/corporations and the quality of their management in the direction of the ability to compete. With the ongoing globalization as well as the aging population and workforce there is an increased number of enterprises/organizations/corporations those are expanding their scope to other markets and establish branches abroad and become more multi-generational. This is closely linked to the interaction of employees of other cultures, age and gender with which we meet also in the implementation of the personnel audit. This paper describes the personnel audit focused on the disparity and also presents partial results of the conducted monitoring. The paper was created within the project VEGA 1/0053/2012.
Key Words: Personnel Audit; Disparity; Age; Gender; Culture; Globalization; the Slovak Republic.
URL: http://sei.iuridica.truni.sk/archive/2014/01/SEI-2014-01-Studies-Andrejcak-Martin.pdf
Bibliographic Citation
ANDREJČÁK, M. Disparity Focused Personnel Audit. Societas et iurisprudentia [online]. 2014, vol. 2, no. 1, pp. 197-208 [cit. 2020-01-01]. ISSN 1339-5467. Available at: http://sei.iuridica.truni.sk/international-scientific-journal/archive/issue-2014-01/disparity-focused-personnel-audit/.