Full Text of Paper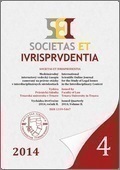 Read paper (PDF)
---
Source Type: Journal
Document Type: Study
Document Language: English
Published on: 31. 12. 2014
File Format: PDF
File Size: 674 kB
Debabrata Chatterjee
In: Societas et iurisprudentia • 2014 • Volume 2 • Issue 4 • Pages 82-97 • ISSN 1339-5467
Abstract: The presented paper focuses on the issues of corporate governance. In its first part, the author presents and analyzes three current dominant groups of authors' opinions related to the questions of global converging of the corporate governance systems towards the Anglo-American model of corporate governance. In the following second part, the author specifically concentrates on analyzing the presented key points on the case of the recent economic development of the People's Republic of China as one of the global economic player based on the state-dominated economic model. The main aim of the paper is to analyze whether the Chinese corporate governance practices are converging towards the corporate governance practices of the western world represented by the Anglo-American corporate governance model.
Key Words: Corporate Governance; Corporate Governance Models; Converging Towards the Corporate Governance Practices; Adopting the Anglo-American Model; Comparative Analysis; the People's Republic of China.
URL: http://sei.iuridica.truni.sk/archive/2014/04/SEI-2014-04-Studies-Chatterjee-Debabrata.pdf
Bibliographic Citation
CHATTERJEE, D. Regulations and Guidance Issued over the Past Several Years – A Vital Aspect of Corporate Governance. Societas et iurisprudentia [online]. 2014, vol. 2, no. 4, pp. 82-97 [cit. 2020-01-01]. ISSN 1339-5467. Available at: http://sei.iuridica.truni.sk/international-scientific-journal/archive/issue-2014-04/regulations-and-guidance-issued-over-the-past-several-years-a-vital-aspect-of-corporate-governance/.