Full Text of Paper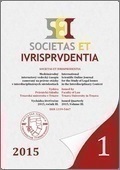 Read paper (PDF)
---
Source Type: Journal
Document Type: Study
Document Language: Slovak
Published on: 31. 3. 2015
File Format: PDF
File Size: 729 kB
Filip Vysudil
In: Societas et iurisprudentia • 2015 • Volume 3 • Issue 1 • Pages 198-215 • ISSN 1339-5467
Abstract: The study focuses on the current issues of criminal justice based primarily on the retributive justice model and presents the concept of restorative justice as an alternative which had an extensive expansion in the recent years. The first chapter briefly describes the current status of criminal justice and its main issues. The second chapter describes the definition, ideas, and main principles of restorative justice. The third chapter consists of four subheads, each dedicated to one of four most used restorative justice models – Victim-Offender Mediation, Family Group Conferencing, Circle Sentencing, and Community Reparative Boards. Restorative justice offers new options how to react to crime and seeks to reflect the needs of victims, offenders, and community.
Key Words: Retributive Justice; Restorative Justice; Victim-Offender Mediation; Repression; Family Group Conferencing; Circle Sentencing; Community Reparative Boards; Faciliator; Repression; Restorative Model; Recommended Ethical Guidelines; Neighborhood Boards; Community Diversion Boards.
URL: http://sei.iuridica.truni.sk/archive/2015/01/SEI-2015-01-Studies-Vysudil-Filip.pdf
Bibliographic Citation
VYSUDIL, F. Restoratívna justícia – definícia a modely. Societas et iurisprudentia [online]. 2015, vol. 3, no. 1, pp. 198-215 [cit. 2020-01-01]. ISSN 1339-5467. Available at: http://sei.iuridica.truni.sk/international-scientific-journal/archive/issue-2015-01/restorative-justice-definition-and-models/.