Full Text of Paper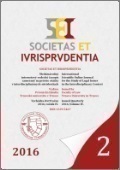 Read paper (PDF)
---
Source Type: Journal
Document Type: Study
Document Language: English
Published on: 30. 6. 2016
File Format: PDF
File Size: 822 kB
Renata Pawlik
In: Societas et iurisprudentia • 2016 • Volume 4 • Issue 2 • Pages 54-88 • ISSN 1339-5467
Abstract: Historically, criminal law and the right to punish were the sovereign competence of the State and one of its most essential prerogatives, which is not to say that the criminal law system functioned in a vacuum. Ius puniendi was traditionally understood as the exclusive right of the State to establish the principles of criminal liability, the scope of its own jurisdiction, the range of criminalization, and specific sanctions for typified offences. Membership of the European Union raises an issue of specific relations that exist between the European Union laws and domestic laws; the core of the European integration rests on the relationships between national sovereignty and the European Union membership. This issue is related to the limits of the openness of the domestic order to the European Union laws and the associated constitutional doubts as to the limits and guarantees of sovereignty which takes on special importance with regard to ius puniendi, where sovereignty is usually defined as an exclusive right of the State and, at the same time, as the capacity to freely set the regulations of broadly understood criminal law, to determine its own jurisdiction, and to choose the manner and scope of interstate cooperation in criminal cases.
Key Words: Ius Puniendi; Criminal Law; the European Integration; the European Union; Sovereignty; Poland.
URL: http://sei.iuridica.truni.sk/archive/2016/02/SEI-2016-02-Studies-Pawlik-Renata.pdf
Bibliographic Citation
PAWLIK, R. Ius Puniendi and Its Sources in the Era of the European Integration – Selected Issues on the Example of Poland. Societas et iurisprudentia [online]. 2016, vol. 4, no. 2, pp. 54-88 [cit. 2020-01-01]. ISSN 1339-5467. Available at: http://sei.iuridica.truni.sk/international-scientific-journal/archive/issue-2016-02/ius-puniendi-and-its-sources-in-the-era-of-the-european-integration-selected-issues-on-the-example-of-poland/.