Full Text of Paper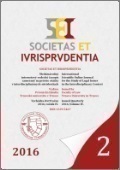 Read paper (PDF)
---
Source Type: Journal
Document Type: Essay
Document Language: Slovak
Published on: 30. 6. 2016
File Format: PDF
File Size: 680 kB
Zuzana Štrbíková
In: Societas et iurisprudentia • 2016 • Volume 4 • Issue 2 • Pages 169-181 • ISSN 1339-5467
Abstract: The goal of the European Union in the enforcement of labour legislation is to protect the interests of employees. The area of social policy has always constituted one of the primary pillars of the European Union and this issue is always in the foreground. Over a few decades, as a consequence of economic changes, among other things a number of directives dealing with social protection of employees have been adopted. Among the most important there are directives relating to transfers of undertakings which shall ensure the transfer of businesses not to have a negative impact on the employees of the concerned undertakings. The intention of the paper is to draw attention to the area of protection of employees against dismissal on the grounds of the transfer.
Key Words: Transfer of Businesses; Protection of Employees; European Labour Law; Court of Justice of the European Union; the European Union.
URL: http://sei.iuridica.truni.sk/archive/2016/02/SEI-2016-02-Essays-Strbikova-Zuzana.pdf
Bibliographic Citation
ŠTRBÍKOVÁ, Z. Ochrana zamestnanca pred prepúšťaním pri prevode zamestnávateľa z pohľadu európskeho pracovného práva. Societas et iurisprudentia [online]. 2016, vol. 4, no. 2, pp. 169-181 [cit. 2020-01-01]. ISSN 1339-5467. Available at: http://sei.iuridica.truni.sk/international-scientific-journal/archive/issue-2016-02/protection-of-employees-against-dismissal-during-the-transfer-of-the-employer-in-terms-of-the-european-labour-law/.