Full Text of Paper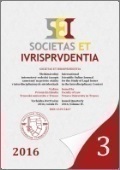 Read paper (PDF)
---
Source Type: Journal
Document Type: Study
Document Language: Slovak
Published on: 30. 9. 2016
File Format: PDF
File Size: 1004 kB
Kristián Blaškovič
In: Societas et iurisprudentia • 2016 • Volume 4 • Issue 3 • Pages 117-164 • ISSN 1339-5467
Abstract: The end of the Cold War caused the appearance or upsurge of many non-traditional threats to international peace and security. Among these so-called soft threats are spread of diseases, organized crime, and environmental degradation. All of them have affected the concept of human security – that is the security of human beings. Especially the climate change is considered as a threat which may have huge impact on international peace and security, as it acts as a threat multiplier and, therefore, it begins to be debated at the United Nations Security Council. However, States are split and, therefore, these debates are so far fruitless. The aim of this study is to analyse security impacts of climate change and to offer some options on how the Security Council can deal with them. The paper is future-oriented and shows which threats are able to be solved by this organ and, at the same time, it points at the shortcomings of other publications which tried to deal with the link between environment and the United Nations Security Council.
Key Words: United Nations Security Council; Environment; Climate Changes; Environmental Threats; Security; Sanctions; Human Security.
URL: http://sei.iuridica.truni.sk/archive/2016/03/SEI-2016-03-Studies-Blaskovic-Kristian.pdf
Bibliographic Citation
BLAŠKOVIČ, K. Bezpečnostná rada Organizácie Spojených národov a environmentálne hrozby. Societas et iurisprudentia [online]. 2016, vol. 4, no. 3, pp. 117-164 [cit. 2020-01-01]. ISSN 1339-5467. Available at: http://sei.iuridica.truni.sk/international-scientific-journal/archive/issue-2016-03/the-united-nations-security-council-and-environmental-threats/.