Full Text of Paper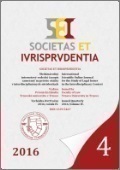 Read paper (PDF)
---
Source Type: Journal
Document Type: Study
Document Language: English
Published on: 31. 12. 2016
File Format: PDF
File Size: 1072 kB
Ivan Smieško
In: Societas et iurisprudentia • 2016 • Volume 4 • Issue 4 • Pages 213-234 • ISSN 1339-5467
Abstract: The presented paper is focused on analysing the issue of the Facebook reaction buttons as a form of hate speech. Pressing these buttons can spread hateful content through Facebook and disseminate extremist ideas. Currently, technologies are so much sophisticated that it is enough to do just one "click" on the computer mouse, touchpad, or display and the content is disseminated. According to the Criminal Code of the Slovak Republic, there it is possible to prosecute the user just for one pressing Facebook reaction button, hence for one "click" with what we disagree on and in the paper we state arguments which support our opinion.
Key Words: Facebook; "Like" Button; Hate Speech; European Convention of Human Rights; European Court of Human Rights; Ultima Ratio; Criminal Code; Criminal Liability; the Slovak Republic.
URL: http://sei.iuridica.truni.sk/archive/2016/04/SEI-2016-04-Studies-Smiesko-Ivan.pdf
Bibliographic Citation
SMIEŠKO, I. Criminal Liability of Facebook Reaction Buttons in Environment of the Slovak Republic as a Form of Hate Speech. Societas et iurisprudentia [online]. 2016, vol. 4, no. 4, pp. 213-234 [cit. 2020-01-01]. ISSN 1339-5467. Available at: http://sei.iuridica.truni.sk/international-scientific-journal/archive/issue-2016-04/criminal-liability-of-facebook-reaction-buttons-in-environment-of-the-slovak-republic-as-a-form-of-hate-speech/.