Full Text of Paper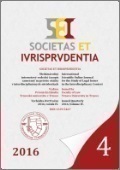 Read paper (PDF)
---
Source Type: Journal
Document Type: Study
Document Language: Slovak
Published on: 31. 12. 2016
File Format: PDF
File Size: 834 kB
Kristína Králiková
In: Societas et iurisprudentia • 2016 • Volume 4 • Issue 4 • Pages 192-212 • ISSN 1339-5467
Abstract: The police as the strength security element of the State mechanism means an autonomous, equivalent, and cooperating element within the security services of the State. This paper represents an outline of the role and the place of the police in society and in the State. The content of the study presents characteristics of the police as an institution as well as a specific activity based on the historical roots of the creation and implementation of the police activities. The mission of the study is also to demonstrate the concept of the police policy the contents of which are, inter alia, the global problems related to organisational, economical, technical, technological, personnel, and management aspects of the operation of a police force. This study accents also some legal aspects of the police activities.
Key Words: Police; Police Activity; Police Politics; Police Control; Police Law; Police State.
URL: http://sei.iuridica.truni.sk/archive/2016/04/SEI-2016-04-Studies-Kralikova-Kristina.pdf
Bibliographic Citation
KRÁLIKOVÁ, K. Postavenie a miesto polície v spoločnosti a v štáte v aktuálnom právno-interdisciplinárnom kontexte. Societas et iurisprudentia [online]. 2016, vol. 4, no. 4, pp. 192-212 [cit. 2020-01-01]. ISSN 1339-5467. Available at: http://sei.iuridica.truni.sk/international-scientific-journal/archive/issue-2016-04/role-and-place-of-the-police-in-society-and-in-the-state-in-current-legal-and-interdisciplinary-contexts/.