Full Text of Paper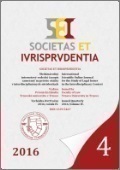 Read paper (PDF)
---
Source Type: Journal
Document Type: Study
Document Language: Czech
Published on: 31. 12. 2016
File Format: PDF
File Size: 885 kB
Filip Melzer
In: Societas et iurisprudentia • 2016 • Volume 4 • Issue 4 • Pages 43-76 • ISSN 1339-5467
Abstract: The paper deals with the institute of vicarious liability related to the actions of an agent. By the previous legislation this issue was handled only very inadequately. Neither the doctrine, however, has in any way contributed to the development of the dogmatics of this legal institute. A fundamental change in the Czech legal environment has been introduced by the new Civil Code which in paragraph 2914 in conjunction with paragraph 1935 regulates the vicarious liability in the way that is very close to the concept of this institute in related legal orders. One the one side, the paper discusses the principal's liability while examining its prerequisite, then, on the other side, especially analyses this liability within the contractual relations and beyond them, i.e. in the area of tort liability. Besides, it is also deals with the agent's own liability excluded by the previous legislation. More attention is then focused on the direct agent's liability who is an employee where it is necessary to take into account the specifics of his/her special protected status.
Key Words: Civil Code; Tort Law; Vicarious Liability; Principal; Agent; Employee; the Czech Republic.
URL: http://sei.iuridica.truni.sk/archive/2016/04/SEI-2016-04-Studies-Melzer-Filip.pdf
Bibliographic Citation
MELZER, F. Odpovědnost za pomocníka podle § 2914 českého Občanského zákoníku. Societas et iurisprudentia [online]. 2016, vol. 4, no. 4, pp. 43-76 [cit. 2020-01-01]. ISSN 1339-5467. Available at: http://sei.iuridica.truni.sk/international-scientific-journal/archive/issue-2016-04/vicarious-liability-under-paragraph-2914-of-the-czech-civil-code/.