Full Text of Paper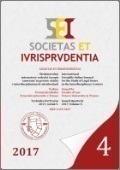 Read paper (PDF)
---
Source Type: Journal
Document Type: Study
Document Language: Slovak
Published on: 31. 12. 2017
File Format: PDF
File Size: 753 kB
Silvia Beierová
In: Societas et iurisprudentia • 2017 • Volume 5 • Issue 4 • Pages 162-186 • ISSN 1339-5467
Abstract: Monitoring of employee's electronic communication has become an effective tool for controlling the performance of employee's tasks and duties. It is a radical intrusion into employee's privacy, even if the employer has limited the use of work computer explicitly to performing work tasks. By analysing the case law and synthesising the conclusions of courts in analogous cases, it can be concluded that in conflict of the interest to protect the privacy of an employee on the one hand and the interest of the employer to protect the property on the other hand, the courts have lately inclined to the employer's interests. A certain divergence can be observed in the decision of the Grand Chamber of the European Court of Human Rights in case Bărbulescu vs. Romania which specifies criteria that must be reviewed in the decision-making activities of national authorities. The employee must be informed of the possibility of monitoring his/her communication, about its reasons and its nature.
Key Words: Labour Law; Case-law; National Courts; the European Court of Human Rights; the Court of Justice of the European Union; Monitoring of Employee E-mails; Control of Electronic Communication; Employee Privacy; Privacy Protection.
URL: http://sei.iuridica.truni.sk/archive/2017/04/SEI-2017-04-Studies-Beierova-Silvia.pdf
Bibliographic Citation
BEIEROVÁ, S. Kontrola elektronickej komunikácie zamestnanca v rozhodovacej činnosti súdov. Societas et iurisprudentia [online]. 2017, vol. 5, no. 4, pp. 162-186 [cit. 2020-01-01]. ISSN 1339-5467. Available at: http://sei.iuridica.truni.sk/international-scientific-journal/archive/issue-2017-04/control-of-employees-electronic-communication-in-courts-decision-making-process/.