Full Text of Paper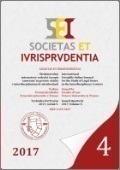 Read paper (PDF)
---
Source Type: Journal
Document Type: Study
Document Language: Slovak
Published on: 31. 12. 2017
File Format: PDF
File Size: 864 kB
Juraj Jankuv
In: Societas et iurisprudentia • 2017 • Volume 5 • Issue 4 • Pages 60-101 • ISSN 1339-5467
Abstract: The presented study aims to identify and to analyse key moments of evolution, present form as well as institutional support of international regime of air space in the spirit of existing customary, treaty and non-binding soft law norms of international public law, and briefly even in the spirit of rules of the European Union. Special attention will be paid to the issue of interaction between the international airspace regime and international environmental law in the area of protection of climate. These analyses will allow us to identify the most important problems and challenges of international aircraft law as one of the important sub-sections of international public law.
Key Words: International Public Law; International Legal Regime; Air Space; International Organisations; International Organs.
URL: http://sei.iuridica.truni.sk/archive/2017/04/SEI-2017-04-Studies-Jankuv-Juraj.pdf
Bibliographic Citation
JANKUV, J. Vývoj, súčasná podoba a inštitucionálne zabezpečenie medzinárodnoprávneho režimu vzdušného priestoru. Societas et iurisprudentia [online]. 2017, vol. 5, no. 4, pp. 60-101 [cit. 2020-01-01]. ISSN 1339-5467. Available at: http://sei.iuridica.truni.sk/international-scientific-journal/archive/issue-2017-04/development-present-shape-and-institutional-support-of-international-legal-regime-of-air-space/.