Full Text of Paper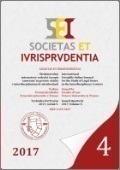 Read paper (PDF)
---
Source Type: Journal
Document Type: Study
Document Language: Slovak
Published on: 31. 12. 2017
File Format: PDF
File Size: 662 kB
Marek Švec – Simona Schuszteková – Adam Madleňák
In: Societas et iurisprudentia • 2017 • Volume 5 • Issue 4 • Pages 143-161 • ISSN 1339-5467
Abstract: The scientific paper deals with an analysis of the relevant provisions of the Labour Code of the Slovak Republic concerning providing the working time off for employees to perform a trade union function. Based on the experience, the authors point out on the existing differences in individual legal institutes (comparison of the institute of obstacle at employee's work and the institute of providing the working time off to perform trade union activities). The subject of legal interpretation is also the issue of employee's material security during the time off from the employer and the interpretation of chosen employee's labour-law rights.
Key Words: Labour Law; Labour Code; Obstacle at Employee's Work; Working Time Off; Wage Compensation; Trade Union; Employee; Employer; the Slovak Republic.
URL: http://sei.iuridica.truni.sk/archive/2017/04/SEI-2017-04-Studies-Svec-Marek-Schusztekova-Simona-Madlenak-Adam.pdf
Bibliographic Citation
ŠVEC, M., S. SCHUSZTEKOVÁ and A. MADLEŇÁK. Prekážka v práci na strane zamestnanca na výkon odborovej funkcie. Societas et iurisprudentia [online]. 2017, vol. 5, no. 4, pp. 143-161 [cit. 2020-01-01]. ISSN 1339-5467. Available at: http://sei.iuridica.truni.sk/international-scientific-journal/archive/issue-2017-04/obstacle-at-employees-work-in-the-performance-of-trade-union-function/.