Full Text of Paper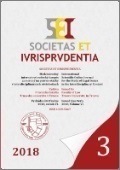 Read paper (PDF)
---
Source Type: Journal
Document Type: Study
Document Language: Slovak
Published on: 30. 9. 2018
File Format: PDF
File Size: 722 kB
Laura Bačová
In: Societas et iurisprudentia • 2018 • Volume 6 • Issue 3 • Pages 95-113 • ISSN 1339-5467
Abstract: This study intends to provide readers with a comprehensive overview of the international legal framework regulating the use of military force and highlights some of the current concerns which exist within the context of humanitarian intervention and its successor concept, the so-called Doctrine of 'Responsibility to Protect' or 'R2P'. There exists a clear tension between the prohibition on the use of force against the sovereign States, the principle of non-interference in States' internal affairs and the promotion and protection of human rights. One of the most pressing problems is the question what to do in case when military force is required to be taken in response to a threat to international peace and security, involving the inability of the States to protect their own citizens or if they themselves grossly violate the human rights of their own population.
Key Words: International Public Law; United Nations Organization; Humanitarian Intervention; 'Responsibility to Protect' Doctrine; the Charter of the United Nations; Sanctions; State Sovereignty.
URL: http://sei.iuridica.truni.sk/archive/2018/03/SEI-2018-03-Studies-Bacova-Laura.pdf
Bibliographic Citation
BAČOVÁ, L. Zmena vnímania suverenity štátu v interakcii s možnosťou jej narušenia. Societas et iurisprudentia [online]. 2018, vol. 6, no. 3, pp. 95-113 [cit. 2020-01-01]. ISSN 1339-5467. Available at: http://sei.iuridica.truni.sk/international-scientific-journal/archive/issue-2018-03/changing-the-perception-of-the-state-sovereignty-in-interaction-with-possibility-of-disturbing-it/.