Full Text of Paper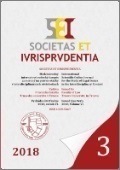 Read paper (PDF)
---
Source Type: Journal
Document Type: Study
Document Language: Slovak
Published on: 30. 9. 2018
File Format: PDF
File Size: 812 kB
Peter Mosný
In: Societas et iurisprudentia • 2018 • Volume 6 • Issue 3 • Pages 114-141 • ISSN 1339-5467
Abstract: Only few topics stir more attention of scientists, politicians, economists, environmental activists, managers of industrial companies and common population all around the globe than the issue of the climate system changes on the Earth, because the related impacts can be observed by every one of us in our neighbourhood – whether as extreme weather changes or as biodiversity changes. The author in his paper analyses international agreements regulating the climate change area, their development and contents. Special attention is being paid to analysis of the development of the international law regulation before the international codification in the area of climate changes. Finally, individual provisions of the United Nations Framework Convention on Climate Change, the Kyoto Protocol and the Paris Agreement are being analysed as key sources of the international public law in the area of the protection of global climate system. Their successful or unsuccessful implementation will have an impact on our, not so distant future.
Key Words: International Public Law; United Nations Organization; Climate Change; Global Warming; Greenhouse Gases; Mitigation; Adaptation; Impacts; International Agreements; Liabilities; Sustainable Development.
URL: http://sei.iuridica.truni.sk/archive/2018/03/SEI-2018-03-Studies-Mosny-Peter.pdf
Bibliographic Citation
MOSNÝ, P. Z Ria do Paríža – cesta ku globálnej dohode o ochrane klímy. Societas et iurisprudentia [online]. 2018, vol. 6, no. 3, pp. 114-141 [cit. 2020-01-01]. ISSN 1339-5467. Available at: http://sei.iuridica.truni.sk/international-scientific-journal/archive/issue-2018-03/from-rio-to-paris-a-path-to-global-agreement-on-climate-protection/.