Full Text of Paper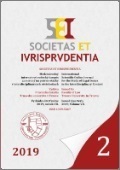 Read paper (PDF)
---
Source Type: Journal
Document Type: Study
Document Language: Czech
Published on: 30. 6. 2019
File Format: PDF
File Size: 825 kB
Věra Sedloňová
In: Societas et iurisprudentia • 2019 • Volume 7 • Issue 2 • Pages 108-138 • ISSN 1339-5467
Abstract: The paper deals with the issues of legal regulation of arbitrability (admissibility of arbitration proceedings) in the Czech law. In year 1995, arbitration proceedings were made possible also in property disputes of natural persons and started to be frequently used for the solving of such disputes. Arbitrability began to extend also thanks to the case-law of the Supreme Court of the Czech Republic. Decision-making in the area of consumer disputes was excluded from the arbitration proceedings in year 2016. The arbitrators themselves decide about appropriate powers, i.e. about the possibility of hearing and decision-making through arbitration proceedings. If they arrive at a conclusion that they do not have appropriate powers in the matter, they will decide about this fact by means of a resolution. Lack of arbitrators' power is a reason for cancellation of an arbitration award by a court of general jurisdiction. The arbitrability institute and the institute of arbitrators' power are different legal institutes.
Key Words: Arbitrability; Arbitration Proceedings; Arbitrator's Power; the Czech Republic.
URL: http://sei.iuridica.truni.sk/archive/2019/02/SEI-2019-02-Studies-Sedlonova-Vera.pdf
Bibliographic Citation
SEDLOŇOVÁ, V. Arbitrabilita a pravomoc rozhodců v České republice. Societas et iurisprudentia [online]. 2019, vol. 7, no. 2, pp. 108-138 [cit. 2020-01-01]. ISSN 1339-5467. Available at: http://sei.iuridica.truni.sk/international-scientific-journal/archive/issue-2019-02/arbitrability-and-arbitrators-powers-in-the-czech-republic/.