Full Text of Paper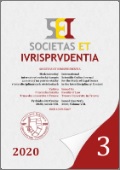 Read paper (PDF)
---
Source Type: Journal
Document Type: Study
Document Language: Czech
Published on: 30. 9. 2020
File Format: PDF
File Size: 645 kB
Lenka Scheu
In: Societas et iurisprudentia • 2020 • Volume 8 • Issue 3 • Pages 118-130 • ISSN 1339-5467
Abstract: The paper deals with the change of the Thuringian electoral legislation, which introduced the mandatory so-called zipping on candidate lists for the provincial elections. The parity law had an impact on the filling of candidates for charters and free and equal elections. This method of supporting the increase of women's participation in public life has been declared unconstitutional by the Thuringian Constitutional Court.
Key Words: Constitutional Law; Electoral Law; Constitutionality; Discrimination; Candidate Lists; Thuringia; the Federal Republic of Germany.
ORCID:

https://orcid.org/0000-0001-9375-2604
DOI: https://doi.org/10.31262/1339-5467/2020/8/3/118-130
URL: http://sei.iuridica.truni.sk/archive/2020/03/SEI-2020-03-Studies-Scheu-Lenka.pdf
Bibliographic Citation
SCHEU, L. Diskriminace žen v politickém životě: O protiústavnosti vyrovnávacích opatření v durynském volebním zákonu. Societas et iurisprudentia [online]. 2020, vol. 8, no. 3, pp. 118-130 [cit. 2020-01-01]. ISSN 1339-5467. Available at: https://doi.org/10.31262/1339-5467/2020/8/3/118-130.