Jakub Morávek
Full Text of Paper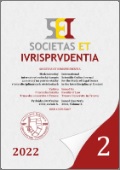 Read paper (PDF)
---
Source Type: Journal
Document Type: Study
Document Language: Czech
Published on: 30. 6. 2022
File Format: PDF
File Size: 823 kB
In: Societas et iurisprudentia • 2022 • Volume 10 • Issue 2 • Pages 19-50 • ISSN 1339-5467
Abstract: The submitted paper offers an insight into the most fundamental changes in the Czech labour law legislation during the pandemics as well as points out what legislation, even though it should have happened with regard to the European regulations, was not adopted. In addition, several decisions of the high courts of the Czech Republic from (mainly) the pandemic years are referenced here, which significantly affect the labour law relations, interpretation and application (especially, but not only) of the labour law regulations.
Key Words: Labour Law; European Union Law; Labour Law Legislation; Labour Jurisprudence; Amendment to the Labour Code; the COVID-19 Pandemics; the Czech Republic.
ORCID:

https://orcid.org/0000-0003-4261-0432
DOI: https://doi.org/10.31262/1339-5467/2022/10/2/19-50
URL: http://sei.iuridica.truni.sk/archive/2022/02/SEI-2022-02-Studies-Moravek-Jakub.pdf
Bibliographic Citation
MORÁVEK, J. Ohlédnutí se za pracovněprávní legislativou a judikaturou (zejména) pandemických let. Societas et iurisprudentia [online]. 2022, vol. 10, no. 2, pp. 19-50 [cit. 2020-01-01]. ISSN 1339-5467. Available at: https://doi.org/10.31262/1339-5467/2022/10/2/19-50.