Full Text of Paper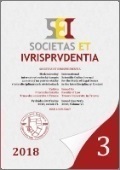 Read paper (PDF)
---
Source Type: Journal
Document Type: Study
Document Language: Slovak
Published on: 30. 9. 2018
File Format: PDF
File Size: 701 kB
Erik Vadas
In: Societas et iurisprudentia • 2018 • Volume 6 • Issue 3 • Pages 83-94 • ISSN 1339-5467
Abstract: In the presented paper, the author will discuss the basic topics of the institute of civil representation. Firstly, he will analyse the relevant provisions of the Act No. 160/2015 Coll. Civil Dispute Settlement regarding the representation by procuratorium. Consequently, the author will focus on disputes with protection of the disadvantaged party, namely consumer disputes, with emphasis laid on the aforementioned institute of representation and its specificities. He will also outline the issue of associations and other legal entities for the protection of consumer rights in accordance with the Act No. 250/2007 Coll. on Consumer Protection. Finally, the author outlines in part also the provision of the Section 296 of the Civil Dispute Settlement which deals with the issue of concentration of proceedings in consumer disputes.
Key Words: Civil Law; Representation; Disputes with Protection of Disadvantaged Party; Consumer; Disadvantaged Party; Civil Dispute Settlement; the Slovak Republic.
URL: https://sei.iuridica.truni.sk/archive/2018/03/SEI-2018-03-Studies-Vadas-Erik.pdf
Bibliographic Citation
VADAS, E. Zastúpenie v spotrebiteľských sporoch – vybrané otázky. Societas et iurisprudentia [online]. 2018, vol. 6, no. 3, pp. 83-94 [cit. 2020-01-01]. ISSN 1339-5467. Available at: https://sei.iuridica.truni.sk/international-scientific-journal/archive/issue-2018-03/representation-in-consumer-disputes-selected-issues/.