Full Text of Paper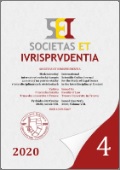 Read paper (PDF)
---
Source Type: Journal
Document Type: Study
Document Language: Slovak
Published on: 31. 12. 2020
File Format: PDF
File Size: 685 kB
Ján Ivančík
In: Societas et iurisprudentia • 2020 • Volume 8 • Issue 4 • Pages 85-102 • ISSN 1339-5467
Abstract: Is the principle nemo plus iuris ad alium transferre potest, quam ipse haberet valid in the modern legal order? It is one of the most quoted original Roman principles in the case law; however, modern social and economic relationships create new circumventions of the aforementioned principle. The author deals with the development and application of this principle during the age of the Roman Empire and its current application in the Slovak legal order.
Key Words: Roman Law; Civil Law; Principle "nemo plus iuris"; Exceptions; Ulpian; the Slovak Republic.
ORCID:

https://orcid.org/0000-0002-4962-7176
DOI: https://doi.org/10.31262/1339-5467/2020/8/4/85-102
URL: https://sei.iuridica.truni.sk/archive/2020/04/SEI-2020-04-Studies-Ivancik-Jan.pdf
Bibliographic Citation
IVANČÍK, J. Vývoj a aplikácia zásady "nemo plus iuris" v rímskom práve a súčasnom slovenskom práve. Societas et iurisprudentia [online]. 2020, vol. 8, no. 4, pp. 85-102 [cit. 2020-01-01]. ISSN 1339-5467. Available at: https://doi.org/10.31262/1339-5467/2020/8/4/85-102.