Full Text of Paper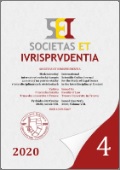 Read paper (PDF)
---
Source Type: Journal
Document Type: Study
Document Language: Slovak
Published on: 31. 12. 2020
File Format: PDF
File Size: 678 kB
Helena Barancová
In: Societas et iurisprudentia • 2020 • Volume 8 • Issue 4 • Pages 21-35 • ISSN 1339-5467
Abstract: In the recent years, even before the corona crisis broke out, employers put into practice new types of benefits for employees. The new benefits were to increase the employee incentives. Some of the benefits lost on topicality at the time of the corona crisis, others still persist into the future. Employers negotiate new benefits for employees in the employment contract, in the collective agreement, but also in their internal regulations. Not all benefits negotiated as random content of the employment contract are in accordance with the law. Some of the benefits for employees may also be provided by employers to employees on the basis of the currently valid labour law regulation.
Key Words: Labour Law; Employment Contract; Collective Agreement; New Benefits for the Employee; Company Volunteering; Internal Regulation of the Employer; the Slovak Republic.
DOI: https://doi.org/10.31262/1339-5467/2020/8/4/21-35
URL: https://sei.iuridica.truni.sk/archive/2020/04/SEI-2020-04-Studies-Barancova-Helena.pdf
Bibliographic Citation
BARANCOVÁ, H. Sociálna politika zamestnávateľa a nové benefity pre zamestnancov. Societas et iurisprudentia [online]. 2020, vol. 8, no. 4, pp. 21-35 [cit. 2020-01-01]. ISSN 1339-5467. Available at: https://doi.org/10.31262/1339-5467/2020/8/4/21-35.