Samanta Kowalska
Full Text of Paper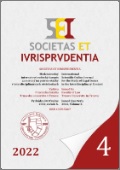 Read paper (PDF)
---
Source Type: Journal
Document Type: Study
Document Language: English
Published on: 31. 12. 2022
File Format: PDF
File Size: 655 kB
In: Societas et iurisprudentia • 2022 • Volume 10 • Issue 4 • Pages 19-35 • ISSN 1339-5467
Abstract: Plants are an integral part of the living organism of nature. Protection of plant biodiversity is essential to ensure the health of ecosystems. The natural world is characterised by cyclical and mutually complementary processes. If the self-regenerative capacity of nature is disturbed, it results in a breach of the biological balance in the ecosystem and the human environment of life. The rapid degradation of natural habitats prompts one to analyse the existing plant protection mechanism. This paper will analyse environmental regulations and standards, which may be the basis for reforming protection programmes.
Key Words: International Law; Environmental Law; Plants; Biodiversity; Environmental Safety; Environmental Protection.
Scopus Author ID: 57224571009
ORCID:

https://orcid.org/0000-0002-8803-3901
DOI: https://doi.org/10.31262/1339-5467/2022/10/4/19-35
URL: https://sei.iuridica.truni.sk/archive/2022/04/SEI-2022-04-Studies-Kowalska-Samanta.pdf
Bibliographic Citation
KOWALSKA, S. Protection of Plant Biodiversity in the Light of International Law. Societas et iurisprudentia [online]. 2022, vol. 10, no. 4, pp. 19-35 [cit. 2020-01-01]. ISSN 1339-5467. Available at: https://doi.org/10.31262/1339-5467/2022/10/4/19-35.