Full Text of Paper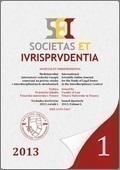 Read paper (PDF)
---
Source Type: Journal
Document Type: Study
Document Language: German
Published on: 31. 12. 2013
File Format: PDF
File Size: 740 kB
Helena Barancová
In: Societas et iurisprudentia • 2013 • Volume 1 • Issue 1 • Pages 60-84 • ISSN 1339-5467
Abstract: The presented study clarifies in detail the questions of the collective agreement law in Slovakia, where the author pays a special attention to following essential areas: I. Historical background of the collective agreement law on the territory of Slovakia, II. Constitutional basis of the collective law and its basic characteristics, III. Collective agreements and IV. Collective disputes.
Key Words: Collective Agreement; Collective Agreement Law; Collective Agreement Bargaining; Collective Agreement Parties; Collective Disputes; Slovakia.
URL: http://sei.iuridica.truni.sk/archive/2013/01/SEI-2013-01-Studies-Barancova-Helena.pdf
Bibliographic Citation
BARANCOVÁ, H. Kollektivvertragsrecht in der Slowakei. Societas et iurisprudentia [online]. 2013, vol. 1, no. 1, pp. 60-84 [cit. 2020-01-01]. ISSN 1339-5467. Available at: http://sei.iuridica.truni.sk/international-scientific-journal/archive/issue-2013-01/collective-agreement-law-in-slovakia/.