Current Issue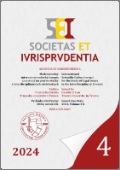 Read contents
Dear readers and friends,
welcome to the website of SOCIETAS ET IURISPRUDENTIA, an international scientific online journal for the study of legal issues in the interdisciplinary context.
The journal SOCIETAS ET IURISPRUDENTIA is issued under the auspices of the Faculty of Law at Trnava University in Trnava, Slovakia, and it thematically focuses mainly on social relevant interdisciplinary relations on the issues of public law and private law at the national, transnational and international levels, while accepting and publishing exclusively original, hitherto unpublished contributions.
The journal SOCIETAS ET IURISPRUDENTIA offers a platform for publication of contributions in the form of:
separate papers and scientific studies as well as scientific studies in cycles;
essays on current social topics or events;
reviews on publications related to the main orientation of the journal;
information as well as reports connected with the inherent mission of the journal.
The journal SOCIETAS ET IURISPRUDENTIA is issued in an electronic on-line version four times a year, regularly on:
March 31st – spring edition;
June 30th – summer edition;
September 30th – autumn edition;
December 31st – winter edition.
The website of the journal SOCIETAS ET IURISPRUDENTIA offers the reading public information in the common graphical user interface as well as in the blind-friendly interface, both parallel in the Slovak and the English languages. In all those languages the journal's editorial office provides also feedback communication.
Yours faithfully,
Team SOCIETAS ET IURISPRUDENTIA