Full Text of Paper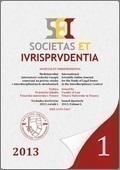 Read paper (PDF)
---
Source Type: Journal
Document Type: Study
Document Language: German
Published on: 31. 12. 2013
File Format: PDF
File Size: 737 kB
Maximilian Fuchs
In: Societas et iurisprudentia • 2013 • Volume 1 • Issue 1 • Pages 33-59 • ISSN 1339-5467
Abstract: Through adoption of the Directive 2008/104/EC the European legal framework for temporary agency work has been set. The long duration of the legislative process by this form of atypical employment can be explained quite substantially through the controversial positions regarding the principle of equal treatment. The following study presents the principle of equal treatment on the background of the history of its formation and discusses the implementation of the directive in various member states.
Key Words: Temporary Agency Work; European Legal Framework for Temporary Agency Work; Directive on Temporary Agency Work (2008/104/EC); Principle of Equal Treatment; Implementation of Principle of Equal Treatment; Member States of the European Union.
URL: http://sei.iuridica.truni.sk/archive/2013/01/SEI-2013-01-Studies-Fuchs-Maximilian.pdf
Bibliographic Citation
FUCHS, M. Die Umsetzung des Gleichbehandlungsgebots nach der Leiharbeitsrichtlinie. Societas et iurisprudentia [online]. 2013, vol. 1, no. 1, pp. 33-59 [cit. 2020-01-01]. ISSN 1339-5467. Available at: http://sei.iuridica.truni.sk/international-scientific-journal/archive/issue-2013-01/the-implementation-of-principle-of-equal-treatment-by-the-directive-on-temporary-agency-work/.