Full Text of Paper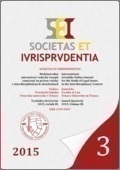 Read paper (PDF)
---
Source Type: Journal
Document Type: Essay
Document Language: English
Published on: 30. 9. 2015
File Format: PDF
File Size: 629 kB
Marica Pirošíková
In: Societas et iurisprudentia • 2015 • Volume 3 • Issue 3 • Pages 202-216 • ISSN 1339-5467
Abstract: The author describes her serious concerns over cases of removing children from their living biological parents without relevant reasons occurring upon the decisions of the English courts and the subjects who were also the Slovak citizens. She criticizes those decisions using the relevant case law of the European Court of Human Rights which says that taking a child into care is by far the most extreme measure and regularly requires domestic authorities to adopt additional measures of support if those are able to reach the pursued aim. The author underlines that for a family which lost a case at the national level it is not an efficient solution to lodge an application to the European Court of Human Rights because the reopening of the proceedings before the family courts must be granted at the national level. She sees the fact that in the Brussels II bis Regulation only procedural rules are formulated and she supports the adoption of new rules concerning the material part of the problem described at the European Union level.
Key Words: Protection of Human Rights; Biological Parents; Removing Children; European Convention on Human Rights; Children and Family Care; Case-Law of the European Court of Human Rights; Brussels II bis Regulation; Member States of the Council of Europe.
URL: http://sei.iuridica.truni.sk/archive/2015/03/SEI-2015-03-Essays-Pirosikova-Marica.pdf
Bibliographic Citation
PIROŠÍKOVÁ, M. Protection of Children's Human Rights in the Council of Europe Member States. Societas et iurisprudentia [online]. 2015, vol. 3, no. 3, pp. 202-216 [cit. 2020-01-01]. ISSN 1339-5467. Available at: http://sei.iuridica.truni.sk/international-scientific-journal/archive/issue-2015-03/protection-of-childrens-human-rights-in-the-council-of-europe-member-states/.