Full Text of Paper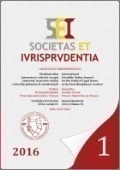 Read paper (PDF)
---
Source Type: Journal
Document Type: Study
Document Language: Slovak
Published on: 31. 3. 2016
File Format: PDF
File Size: 882 kB
Ladislav Poliak
In: Societas et iurisprudentia • 2016 • Volume 4 • Issue 1 • Pages 122-138 • ISSN 1339-5467
Abstract: Financial autonomy is an important aspect of the local government existence. In the paper there is analysed a sample of the Slovak municipalities on which a modified methodology of quantification of municipal financial autonomy has been applied. The same methodology has been applied also in case of the selected European countries. The analysis shows that financial autonomy of the Slovak municipalities is decreasing since January 1st, 2005. In years 2004 – 2012, the average net financial autonomy of analysed sample reached the level of 0.154 5, the dependence on the state transfers and shared tax the level of 0.661 0, and the debt ratio the level of 0.053 4. In comparison with selected foreign countries, the Slovak municipalities reach average values.
Key Words: Financial Autonomy; Fiscal Decentralization; Local Autonomy; Local Finance; Local Taxes; Microeconomic View; Municipalities; Indebtedness; Shared Taxes; Transfers; the Slovak Republic.
URL: http://sei.iuridica.truni.sk/archive/2016/01/SEI-2016-01-Studies-Poliak-Ladislav.pdf
Bibliographic Citation
POLIAK, L. Finančná autonómia obcí – mikroekonomické východiská. Societas et iurisprudentia [online]. 2016, vol. 4, no. 1, pp. 122-138 [cit. 2020-01-01]. ISSN 1339-5467. Available at: http://sei.iuridica.truni.sk/international-scientific-journal/archive/issue-2016-01/financial-autonomy-of-municipalities-microeconomic-backgrounds/.