Full Text of Paper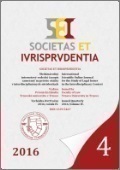 Read paper (PDF)
---
Source Type: Journal
Document Type: Study
Document Language: Slovak
Published on: 31. 12. 2016
File Format: PDF
File Size: 763 kB
Andrea Olšovská – Eva Szabová
In: Societas et iurisprudentia • 2016 • Volume 4 • Issue 4 • Pages 134-159 • ISSN 1339-5467
Abstract: The basic and typical function of the labour law is its protection function which is oriented mainly towards the weaker party of the employment relationship – the employee. However, this function should be maintained also in relation to the employer. An important area of activity of employees' representatives – the trade union is the area of collective bargaining. In the context of collective bargaining there may also occur the realisation of a strike which we will address from the perspective of the "balanced protective function" of the labour law. The aim of the paper is to investigate the possible limits of the right to strike, especially in terms of "maintaining the existence" of the employer (especially in plants where the interruption of operation can cause ecological disasters and threats to the lives of employees).
Key Words: Labour Law; Criminal Law; Strike; Protective Function; Trade Union Cooperation; Collective Bargaining; Necessary Activities; the Slovak Republic.
URL: http://sei.iuridica.truni.sk/archive/2016/04/SEI-2016-04-Studies-Olsovska-Andrea-Szabova-Eva.pdf
Bibliographic Citation
OLŠOVSKÁ, A. and E. SZABOVÁ. Ochranná funkcia pracovného práva v kolektívnych pracovnoprávnych vzťahoch (pracovnoprávne a trestnoprávne aspekty štrajku). Societas et iurisprudentia [online]. 2016, vol. 4, no. 4, pp. 134-159 [cit. 2020-01-01]. ISSN 1339-5467. Available at: http://sei.iuridica.truni.sk/international-scientific-journal/archive/issue-2016-04/protection-function-of-labour-law-in-collective-labour-law-relations-labour-law-and-criminal-law-aspects-of-strike/.