Full Text of Paper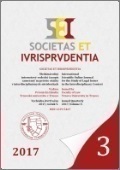 Read paper (PDF)
---
Source Type: Journal
Document Type: Study
Document Language: English
Published on: 30. 9. 2017
File Format: PDF
File Size: 698 kB
Daniela Hlobíková
In: Societas et iurisprudentia • 2017 • Volume 5 • Issue 3 • Pages 114-133 • ISSN 1339-5467
Abstract: The presented study deals with the sources of law of employment protection at the European as well as international levels. We researched the areas of termination of employment, collective dismissal and fixed-term employment, compared the European and international regulations and outlined further possible development.
Key Words: Labour Law; Employment Protection; Termination of Employment; Collective Dismissal; Fixed-term Employment; International Labour Organization; the European Union.
URL: http://sei.iuridica.truni.sk/archive/2017/03/SEI-2017-03-Studies-Hlobikova-Daniela.pdf
Bibliographic Citation
HLOBÍKOVÁ, D. Employment Protection According to the European Union Law and International Labour Law. Societas et iurisprudentia [online]. 2017, vol. 5, no. 3, pp. 114-133 [cit. 2020-01-01]. ISSN 1339-5467. Available at: http://sei.iuridica.truni.sk/international-scientific-journal/archive/issue-2017-03/employment-protection-according-to-the-european-union-law-and-international-labour-law/.