Full Text of Paper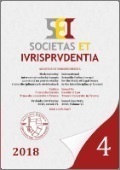 Read paper (PDF)
---
Source Type: Journal
Document Type: Study
Document Language: English
Published on: 31. 12. 2018
File Format: PDF
File Size: 718 kB
Jozef Štefanko
In: Societas et iurisprudentia • 2018 • Volume 6 • Issue 4 • Pages 97-115 • ISSN 1339-5467
Abstract: This paper introduces the Slovak law of protection of personality through the optics of private law, in particular its general and core regulation in the Slovak Civil Code. It ponders the constitutional underpinnings and contexts thereof as well as their mutual communication and evaluation of conflicting constitutional principles. The paper also introduces the current legal discourse of this area of law in Slovakia and discusses the issue of monetary satisfaction for non-pecuniary loss of surviving relatives, sometimes referred to as bereavement damages, and tackles manifold legal questions this issue brings about to the legal practice. It concludes that the Slovak substantive law is in a need for a systematically coherent system of liabilities and compensations in cases of personal injuries in a broader sense.
Key Words: Civil Law; Personality Rights; Personal Injury; Remedies; Monetary Satisfaction; Compensation; Liability; Bereavement Damages; Car-accident Insurance; the Slovak Republic.
URL: http://sei.iuridica.truni.sk/archive/2018/04/SEI-2018-04-Studies-Stefanko-Jozef.pdf
Bibliographic Citation
ŠTEFANKO, J. Protection of Personality Rights in Slovakia. Societas et iurisprudentia [online]. 2018, vol. 6, no. 4, pp. 97-115 [cit. 2020-01-01]. ISSN 1339-5467. Available at: http://sei.iuridica.truni.sk/international-scientific-journal/archive/issue-2018-04/protection-of-personality-rights-in-slovakia/.