Full Text of Paper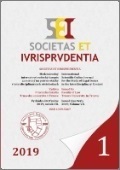 Read paper (PDF)
---
Source Type: Journal
Document Type: Study
Document Language: Russian
Published on: 31. 3. 2019
File Format: PDF
File Size: 848 kB
Igor Ivanovich Babin
In: Societas et iurisprudentia • 2019 • Volume 7 • Issue 1 • Pages 47-77 • ISSN 1339-5467
Abstract: The popularity of mediation as an alternative dispute resolution is constantly growing. It is not by chance that in many countries mediation is regulated by law, and mediation itself is an indispensable means of pre-trial settlements of disputes. However, the mediation itself is not a homogeneous phenomenon. Today, along with the classical model of mediation, other models emerge and develop, which differ in procedure, reflect various theories and strategies. The paper attempts to systematize the modern directions of development of mediation. The study and research of mediation models are of great theoretical and practical importance, since they allow to identify the most appropriate areas of application of a particular model. Mediation models do not pretend to universal application, but serve as a conceptual guide for practicing mediators and parties to a conflict as well as those interested in studying mediation as a complex, multidimensional phenomenon.
Key Words: Law; Alternative Dispute Resolution; Mediation; Mediation Model; Classical Mediation Model; Right-oriented Mediation Models; Psycho-oriented Mediation Models.
URL: http://sei.iuridica.truni.sk/archive/2019/01/SEI-2019-01-Studies-Babin-Igor-Ivanovich.pdf
Bibliographic Citation
BABIN, I. I. Современные модели медиации. Societas et iurisprudentia [online]. 2019, vol. 7, no. 1, pp. 47-77 [cit. 2020-01-01]. ISSN 1339-5467. Available at: http://sei.iuridica.truni.sk/medzinarodny-vedecky-casopis/archiv/cislo-2019-01/modern-models-of-mediation/.