Full Text of Paper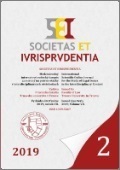 Read paper (PDF)
---
Source Type: Journal
Document Type: Study
Document Language: Russian
Published on: 30. 6. 2019
File Format: PDF
File Size: 682 kB
Aleksey Pavlovich Anisimov
In: Societas et iurisprudentia • 2019 • Volume 7 • Issue 2 • Pages 50-64 • ISSN 1339-5467
Abstract: The paper is devoted to the consideration of one of the varieties of inter-sectoral contracts concluded in the sphere of interaction between society and nature. As conclusion, it is argued that this type of contractual relationship is regulated by the norms of the civil law and the environmental law, which is studied on the example of the specifics of four types of contracts for the provision of services (contracts of environmental insurance, contracts of environmental audit, contracts of environmental tourism as well as contracts for the treatment of solid municipal waste).
Key Words: Private Law; Public Law; Environmental Law; Contract; Waste; the Russian Federation.
URL: http://sei.iuridica.truni.sk/archive/2019/02/SEI-2019-02-Studies-Anisimov-Aleksey-Pavlovich.pdf
Bibliographic Citation
ANISIMOV, A. P. О теории межотраслевых договоров (на примере экологических договоров). Societas et iurisprudentia [online]. 2019, vol. 7, no. 2, pp. 50-64 [cit. 2020-01-01]. ISSN 1339-5467. Available at: http://sei.iuridica.truni.sk/international-scientific-journal/archive/issue-2019-02/on-the-theory-of-inter-sectoral-contracts-on-example-of-environmental-contracts/.