Full Text of Paper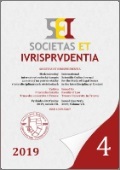 Read paper (PDF)
---
Source Type: Journal
Document Type: Study
Document Language: English
Published on: 31. 12. 2019
File Format: PDF
File Size: 589 kB
Jakub Morávek
In: Societas et iurisprudentia • 2019 • Volume 7 • Issue 4 • Pages 54-62 • ISSN 1339-5467
Abstract: The paper focuses primarily on the legal status of a professional athlete in the legal order of the Czech Republic. The author describes possible statutes (employee, entrepreneur, professional soldier). Besides that, he also discusses the legal status of an athlete in the era of the socialism.
Key Words: Labour Law; Sports Law; Labour Code; Sports Act; Professional Athlete Status; the Czech Republic.
URL: http://sei.iuridica.truni.sk/archive/2019/04/SEI-2019-04-Studies-Moravek-Jakub.pdf
Bibliographic Citation
MORÁVEK, J. Legal Governance of Professional Athletics in the Czech Republic. Societas et iurisprudentia [online]. 2019, vol. 7, no. 4, pp. 54-62 [cit. 2020-01-01]. ISSN 1339-5467. Available at: http://sei.iuridica.truni.sk/international-scientific-journal/archive/issue-2019-04/legal-governance-of-professional-athletics-in-the-czech-republic/.