Full Text of Paper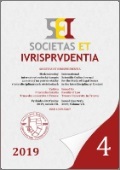 Read paper (PDF)
---
Source Type: Journal
Document Type: Study
Document Language: English
Published on: 31. 12. 2019
File Format: PDF
File Size: 626 kB
Samanta Kowalska
In: Societas et iurisprudentia • 2019 • Volume 7 • Issue 4 • Pages 98-112 • ISSN 1339-5467
Abstract: Mental health is one of the highest priority values for both the individual and the system of protection of the human rights. Every person, regardless of the age and social status, desires good health. We are currently witnessing an increase in the number of cases of disorders of neurological origin. Depression and stress are taking an ever greater toll on the society. This paper presents the axiology of protection of the human rights with regards to mental health. Legislation and application of the law, in order to remain rooted in the essence of the human rights, ought to be practised in accordance with universal, timeless values that constitute the human existence and identity.
Key Words: Human Rights; Personal Rights; Mental Health; Anti-discrimination Clauses; Prevention and Protection of Mental Health; European Convention on Human Rights; European Court of Human Rights; Poland.
URL: http://sei.iuridica.truni.sk/archive/2019/04/SEI-2019-04-Studies-Kowalska-Samanta.pdf
Bibliographic Citation
KOWALSKA, S. Mental Health – Personal Right, Protection of Integrity of an Individual. On the Axiology of Human Rights. Societas et iurisprudentia [online]. 2019, vol. 7, no. 4, pp. 98-112 [cit. 2020-01-01]. ISSN 1339-5467. Available at: http://sei.iuridica.truni.sk/international-scientific-journal/archive/issue-2019-04/mental-health-personal-right-protection-of-integrity-of-an-individual-on-the-axiology-of-human-rights/.