Full Text of Paper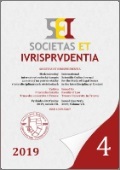 Read paper (PDF)
---
Source Type: Journal
Document Type: Study
Document Language: Russian
Published on: 31. 12. 2019
File Format: PDF
File Size: 713 kB
Aleksey Pavlovich Anisimov
In: Societas et iurisprudentia • 2019 • Volume 7 • Issue 4 • Pages 21-38 • ISSN 1339-5467
Abstract: The paper proves that consideration of environmental crises in the United States of America (the Flint Michigan Case), Russia or any other country, involving poisoning the residents with contaminated drinking water, is not permissible in isolation from many other social, economic, political and other factors. As it was shown on the examples of the city of Flint (United States of America) and the cities of Krasnokamsk and Nytva (Russia), the problem of poor quality drinking water, entailing poisoning of children and adults, had the main cause in poverty and economic depression in the corresponding region (municipality). The paper proposes a number of legal and social measures to mitigate the consequences of such tragedies and to create conditions for their prevention.
Key Words: Environmental Law; Environmental Protection; Water; Pollution; Health; Harm; Poverty; the United States of America; the Russian Federation.
URL: http://sei.iuridica.truni.sk/archive/2019/04/SEI-2019-04-Studies-Anisimov-Aleksey-Pavlovich.pdf
Bibliographic Citation
ANISIMOV, A. P. «Дело Флинт Мичиган» и его значение для эколого-правовой доктрины и законодательства Соединенных Штатов Америки и России. Societas et iurisprudentia [online]. 2019, vol. 7, no. 4, pp. 21-38 [cit. 2020-01-01]. ISSN 1339-5467. Available at: http://sei.iuridica.truni.sk/international-scientific-journal/archive/issue-2019-04/the-flint-michigan-case-and-its-significance-for-the-environmental-legal-doctrine-and-legislation-of-the-united-states-of-america-and-russia/.