Full Text of Paper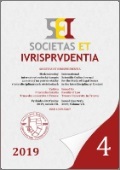 Read paper (PDF)
---
Source Type: Journal
Document Type: Study
Document Language: German
Published on: 31. 12. 2019
File Format: PDF
File Size: 802 kB
Veronika Kleňová
In: Societas et iurisprudentia • 2019 • Volume 7 • Issue 4 • Pages 63-97 • ISSN 1339-5467
Abstract: The "gifts" to a dowry can be divided into three groups of cases. Their explanation should show: 1.) that the donation was in the classical Roman law incompatible with the donor's right of recovery (condictio); 2.) that a gratuitous transaction was treated as a datio ob rem if the "donor" had the condictio in the event that the condition (modus) will not be fulfilled; and 3.) that it was not decisive for the assessment of the legal transaction as a gift in whose interest the fulfilment of the condition (modus) was.
Key Words: Roman Law; donation; Providing of a Dowry; modus; condictio ob rem; Features of a Gift; dos profecticia; dos adventicia.
URL: http://sei.iuridica.truni.sk/archive/2019/04/SEI-2019-04-Studies-Klenova-Veronika.pdf
Bibliographic Citation
KLEŇOVÁ, V. Zuwendungen einer zur Mitgift bestimmten Sache (zugleich zur Schenkung unter Auflage). Societas et iurisprudentia [online]. 2019, vol. 7, no. 4, pp. 63-97 [cit. 2020-01-01]. ISSN 1339-5467. Available at: http://sei.iuridica.truni.sk/international-scientific-journal/archive/issue-2019-04/the-gifts-to-a-dowry-a-contribution-to-a-donatio-sub-modo/.