Full Text of Paper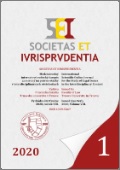 Read paper (PDF)
---
Source Type: Journal
Document Type: Study
Document Language: Slovak
Published on: 31. 3. 2020
File Format: PDF
File Size: 777 kB
Laura Bačová
In: Societas et iurisprudentia • 2020 • Volume 8 • Issue 1 • Pages 109-132 • ISSN 1339-5467
Abstract: This paper aims to provide readers with a comprehensive overview of the current challenges to the rules of the public international law on the use of force. "New wars" or, better to say, armed conflicts are no longer a duel between the rival states, but include a complex mix of internal and international elements, taking place in a globalized environment and involving an increasing number of the state and non-state actors. Recent armed conflicts can be distinguished from conventional wars mostly in terms of their context, roles of the states and non-states actors, their methods, motives, objectives and their victims. There are growing concerns at the failure to respond adequately to modern security threats and humanitarian catastrophes, such as in Rwanda and Syria. Such concerns have led to push the boundaries of the law, seeking to construct a unilateral right to use the force preventively or for humanitarian purposes. The paper examines the concepts of the humanitarian intervention and the responsibility to protect.
Key Words: International Law; Public International Law; Law of Armed Conflicts; Permitted Ways of Using Force or Threat by Force; United Nations Organization; Charter of the United Nations; Humanitarian Intervention; Responsibility to Protect.
DOI: https://doi.org/10.31262/1339-5467/2020/8/1/109-132
URL: http://sei.iuridica.truni.sk/archive/2020/01/SEI-2020-01-Studies-Bacova-Laura.pdf
Bibliographic Citation
BAČOVÁ, L. Dovolené spôsoby použitia sily či hrozby silou v podmienkach súčasného medzinárodného práva. Societas et iurisprudentia [online]. 2020, vol. 8, no. 1, pp. 109-132 [cit. 2020-01-01]. ISSN 1339-5467. Available at: https://doi.org/10.31262/1339-5467/2020/8/1/109-132.