Full Text of Paper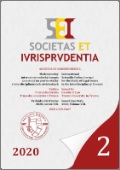 Read paper (PDF)
---
Source Type: Journal
Document Type: Study
Document Language: Czech
Published on: 30. 6. 2020
File Format: PDF
File Size: 801 kB
Václav Pravda
In: Societas et iurisprudentia • 2020 • Volume 8 • Issue 2 • Pages 95-115 • ISSN 1339-5467
Abstract: The paper elaborates on the specific legal environment of the Russian Federation in relation to international commercial arbitration. In particular, the author points out the issue of interim measures. Russia is a country of interest to the Czech businessmen; therefore, various disputes might, naturally, occur. These potential disputes are usually attached to the state courts. Given the current legal conditions of the state, the interaction between the arbitral proceedings and the court proceedings can rarely be eliminated. The sole case of a true independent course of arbitration might be witnessed in the case of voluntary compliance with the arbitral award when other requirements are also met. In the author's view, it is always beneficial to have an awareness of the state's procedural environment of the venue of the arbitration and of the venue of a potential enforcement of the award. The paper follows such idea and summarizes the present knowledge about the respective issues. The paper also refers about other current problems in Russia and in the region of the Commonwealth of Independent States.
Key Words: International Private Law; Arbitration; Interim Measure; Public Order; Recognition and Enforcement of Foreign Arbitral Awards; Guerrilla Tactics; Emergency Arbitrator; the Russian Federation.
DOI: https://doi.org/10.31262/1339-5467/2020/8/2/95-115
URL: http://sei.iuridica.truni.sk/archive/2020/02/SEI-2020-02-Studies-Pravda-Vaclav.pdf
Bibliographic Citation
PRAVDA, V. Specifika mezinárodní obchodní arbitráže v Ruské federaci s vhledem do problematiky předběžných opatření. Societas et iurisprudentia [online]. 2020, vol. 8, no. 2, pp. 95-115 [cit. 2020-01-01]. ISSN 1339-5467. Available at: https://doi.org/10.31262/1339-5467/2020/8/2/95-115.