Full Text of Paper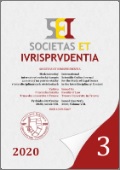 Read paper (PDF)
---
Source Type: Journal
Document Type: Study
Document Language: English
Published on: 30. 9. 2020
File Format: PDF
File Size: 796 kB
Renata Pawlik
In: Societas et iurisprudentia • 2020 • Volume 8 • Issue 3 • Pages 46-75 • ISSN 1339-5467
Abstract: The subject of the paper is an analysis of the issue of criminal responsibility for participation in illegal car races and the possibility of assigning it to drivers deliberately causing the risk of death of another traffic participant. The author, using the example of events taking place in Germany, Slovakia and Poland, indicates the need to prosecute their participants who caused death of another person taking part in the traffic for intentional homicide or murder. The paper examines the issue of responsibility for causing common danger in traffic and presents arguments supporting the idea of assigning such responsibility to people who show bravado in road traffic and disregard danger they cause for life and health of other road users.
Key Words: Criminal Law; Traffic Offense; Intent; Negligence; Attribution of Result; Common Danger; Illegal Car Racing; Disregard for Legal Good; Penal Code; Germany; Slovakia; Poland.
ORCID:

https://orcid.org/0000-0003-3834-221X
DOI: https://doi.org/10.31262/1339-5467/2020/8/3/46-75
URL: http://sei.iuridica.truni.sk/archive/2020/03/SEI-2020-03-Studies-Pawlik-Renata.pdf
Bibliographic Citation
PAWLIK, R. Liability for Intentional Crime as Consequence of Traffic Offenses – Comparative Considerations. Societas et iurisprudentia [online]. 2020, vol. 8, no. 3, pp. 46-75 [cit. 2020-01-01]. ISSN 1339-5467. Available at: https://doi.org/10.31262/1339-5467/2020/8/3/46-75.