Full Text of Paper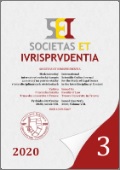 Read paper (PDF)
---
Source Type: Journal
Document Type: Study
Document Language: English
Published on: 30. 9. 2020
File Format: PDF
File Size: 708 kB
Justyna Krzywkowska
In: Societas et iurisprudentia • 2020 • Volume 8 • Issue 3 • Pages 131-146 • ISSN 1339-5467
Abstract: Roman law has had a significant impact on the development of the both canon law and church legislation. Medieval canonists were fascinated by the Roman law. Thanks to the Roman law, the Church has obtained an auxiliary source of the canon law. During the Middle-Ages, even the division into canonists and secular lawyers disappeared. Academies were awarding degrees in both laws, i.e. the canon law and the Roman law. Many church legal institutions and canonical procedures are rooted in the Roman law. The purpose of this paper is to show the ambiguity of the term "complaint" in the legal doctrine, because the canon law derives from the conceptual apparatus of the Roman law.
Key Words: Roman Law; Canon Law; Complaint; Plea; Claim; Libellus of Litigation; actio; libellus; petitio; querela; Case; Poland.
ORCID:

https://orcid.org/0000-0002-0667-6453
DOI: https://doi.org/10.31262/1339-5467/2020/8/3/131-146
URL: http://sei.iuridica.truni.sk/archive/2020/03/SEI-2020-03-Studies-Krzywkowska-Justyna.pdf
Bibliographic Citation
KRZYWKOWSKA, J. Polysemy of the Term Complaint in Legal Doctrine – the Impact of Roman Law on Canon Law. Societas et iurisprudentia [online]. 2020, vol. 8, no. 3, pp. 131-146 [cit. 2020-01-01]. ISSN 1339-5467. Available at: https://doi.org/10.31262/1339-5467/2020/8/3/131-146.