Full Text of Paper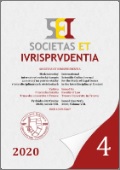 Read paper (PDF)
---
Source Type: Journal
Document Type: Essay
Document Language: Slovak
Published on: 31. 12. 2020
File Format: PDF
File Size: 732 kB
Peter Vyšný
In: Societas et iurisprudentia • 2020 • Volume 8 • Issue 4 • Pages 103-121 • ISSN 1339-5467
Abstract: The paper briefly deals with the importance of knowledge of the prehistory as well as the possibility of the existence of a law in the prehistory and the overall nature of such a law, both in a general perspective and in the light of the scientific monograph Prehistory of Law by José María Ribas Alba. From the analysis of this book contained in the paper, it is clear that the book has a significant contribution to the legal science and legal history, since: 1. it proves quite convincingly the existence of a certain law in the prehistoric society; 2. it systematically reconstructs the features, forms and development of this law; and 3. it relatively sufficiently verifies the hypothesis that elements of prehistoric law are legal universals, having, at least to some extent, universal (all-mankind, panhuman, global) and timeless character, and, therefore, in the context of the legal (social, cultural) evolution of mankind can be considered for a kind of analogy of the genes involved in its biological evolution.
Key Words: Legal Pre-history; General Characteristics of Prehistory; Meaning of Knowledge of Prehistory; Existence of Law in Prehistory; General Character of Prehistoric Law; Development of Prehistoric Law; José María Ribas Alba; Book Prehistory of Law.
ORCID:

https://orcid.org/0000-0001-5132-1291
DOI: https://doi.org/10.31262/1339-5467/2020/8/4/103-121
URL: http://sei.iuridica.truni.sk/archive/2020/04/SEI-2020-04-Essays-Vysny-Peter.pdf
Bibliographic Citation
VYŠNÝ, P. Praveké právo? Niekoľko poznámok ku knihe José María Ribasa Albu Prehistória práva. Societas et iurisprudentia [online]. 2020, vol. 8, no. 4, pp. 103-121 [cit. 2020-01-01]. ISSN 1339-5467. Available at: https://doi.org/10.31262/1339-5467/2020/8/4/103-121.