Full Text of Paper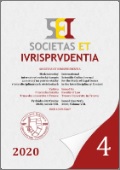 Read paper (PDF)
---
Source Type: Journal
Document Type: Study
Document Language: English
Published on: 31. 12. 2020
File Format: PDF
File Size: 673 kB
Alyona Dutko
In: Societas et iurisprudentia • 2020 • Volume 8 • Issue 4 • Pages 36-50 • ISSN 1339-5467
Abstract: The paper analyses the forms and methods of protection of family rights and interests. It is noted that judicial protection is the most effective and universal; it guarantees the correct application of the law, the establishment of real rights and responsibilities of individuals. The right of participants in family relations to judicial protection is considered, noted on the procedural features of family cases in civil proceedings in Ukraine. The concepts of "private life" and "family life" in the case law of the European Court of Human Rights are analysed. Particular attention is paid to the protection of children's rights in court, especially in the European Court of Human Rights. The author concludes that there is a need for further comprehensive systematic analysis of the problem of legal regulation of family rights which will provide an opportunity to ensure these rights at the national level, and further guarantee them at the European level.
Key Words: Civil Law; Family Law; Jurisdictional Form of Protection of the Right; Court; Participant in Family Relations; Child; European Court of Human Rights; Ukraine.
ORCID:

https://orcid.org/0000-0001-5622-1046
DOI: https://doi.org/10.31262/1339-5467/2020/8/4/36-50
URL: http://sei.iuridica.truni.sk/archive/2020/04/SEI-2020-04-Studies-Dutko-Alyona.pdf
Bibliographic Citation
DUTKO, A. Protection of Family Rights of a Person by a Court. Societas et iurisprudentia [online]. 2020, vol. 8, no. 4, pp. 36-50 [cit. 2020-01-01]. ISSN 1339-5467. Available at: https://doi.org/10.31262/1339-5467/2020/8/4/36-50.