Katarzyna Banasik
Full Text of Paper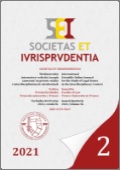 Read paper (PDF)
---
Source Type: Journal
Document Type: Study
Document Language: English
Published on: 30. 6. 2021
File Format: PDF
File Size: 752 kB
In: Societas et iurisprudentia • 2021 • Volume 9 • Issue 2 • Pages 42-71 • ISSN 1339-5467
Abstract: The subject of this paper is the issue of the criminalisation of the possession of narcotics in Poland. Particular attention is paid to the institution of the optional termination of criminal proceedings in cases when the person who has committed the offence is in possession of an inconsiderable amount of narcotics for personal use. The aim of the study is, among other things, to demonstrate how this institution functions in practice and to examine whether the Polish regulations are compatible with the international and the European regulations. The author first presents a historical outline of the criminalisation of offences involving an unlawful possession of narcotics, and then develops the idea of what should be understood by 'possession' of narcotics while also addressing the issue of 'possession of narcotics within one's own body'. In the further section of the paper, the author analyses the notion of 'an inconsiderable quantity of narcotics', presenting views expressed in the literature and showing disparities in interpretations of this notion in the case law. In the final section, the author presents conclusions and an assessment of the current state of the relevant Polish legislation.
Key Words: Criminal Law; Narcotics; Possession of Narcotics; Criminalisation of Possession of Narcotics; Illicit Drugs; Psychotropic Substances; Inconsiderable Quantity of Narcotics; Poland.
ORCID:

https://orcid.org/0000-0003-3693-0480
DOI: https://doi.org/10.31262/1339-5467/2021/9/2/42-71
URL: http://sei.iuridica.truni.sk/archive/2021/02/SEI-2021-02-Studies-Banasik-Katarzyna.pdf
Bibliographic Citation
BANASIK, K. Criminalisation of Possession of Narcotics in Poland. Societas et iurisprudentia [online]. 2021, vol. 9, no. 2, pp. 42-71 [cit. 2020-01-01]. ISSN 1339-5467. Available at: https://doi.org/10.31262/1339-5467/2021/9/2/42-71.