Veronika Zoričáková
Full Text of Paper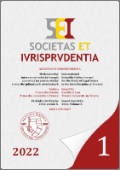 Read paper (PDF)
---
Source Type: Journal
Document Type: Study
Document Language: Slovak
Published on: 31. 3. 2022
File Format: PDF
File Size: 696 kB
In: Societas et iurisprudentia • 2022 • Volume 10 • Issue 1 • Pages 66-86 • ISSN 1339-5467
Abstract: In the paper, the author deals with the issue of a contractual penalty in labour relations, while the reason for reopening this issue was the ongoing unclear nature of the agreement on monetary compensation in the provision of § 62 paragraph 8 and § 83a paragraph 5 of the Slovak Labour Code. After a theoretical introduction to the contractual penalty, its nature, functions and relationship to liability for damage under civil law and commercial law, she concludes that monetary compensation agreements, in fact, are contractual penalty agreements. However, they are characterized by peculiarities that affect the potential relationship of the general civilian regulation of the contractual penalty, especially in terms of the relationship of monetary compensation and liability for damage caused by violation of the same obligation and the moderating right of the court. In conclusions, she briefly formulates possible future relation between the Slovak Civil Code and the Slovak Commercial Code and she agrees with the need to set up full subsidiarity of the Civil Code to the Labour Code.
Key Words: Labour Law; Contractual Penalty; Damages; Sanction; Damage Compensation; the Slovak Republic.
ORCID:

https://orcid.org/0000-0002-3038-280X
DOI: https://doi.org/10.31262/1339-5467/2022/10/1/66-86
URL: http://sei.iuridica.truni.sk/archive/2022/01/SEI-2022-01-Studies-Zoricakova-Veronika.pdf
Bibliographic Citation
ZORIČÁKOVÁ, V. Zmluvná pokuta v pracovnom práve? Krátke zamyslenie sa nad dohodou o peňažnej náhrade v § 62 ods. 8 a § 83a ods. 5 Zákonníka práce. Societas et iurisprudentia [online]. 2022, vol. 10, no. 1, pp. 66-86 [cit. 2020-01-01]. ISSN 1339-5467. Available at: https://doi.org/10.31262/1339-5467/2022/10/1/66-86.