Rafał Adamus
Full Text of Paper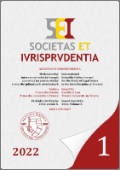 Read paper (PDF)
---
Source Type: Journal
Document Type: Study
Document Language: English
Published on: 31. 3. 2022
File Format: PDF
File Size: 630 kB
In: Societas et iurisprudentia • 2022 • Volume 10 • Issue 1 • Pages 19-35 • ISSN 1339-5467
Abstract: This study concerns on the Draft Act on Family Foundations. This draft law is still in the course of legislative works, but it constitutes the basis for a lively discussion in Poland on its final structure. This paper presents the general concept of regulating family foundations in Poland with the most important aspects of the private-legal structure. The model relating to tax solutions remains beyond the scope of this text. The Bill on Family Foundations has a symbolic dimension, because if the legislator intends to implement it, it means that the development of economic relations in Poland has reached an appropriate high level.
Key Words: Civil Law; Family Foundation; Beneficiary; Founder; Estate; Poland.
ORCID:

https://orcid.org/0000-0003-4968-459X
DOI: https://doi.org/10.31262/1339-5467/2022/10/1/19-35
URL: http://sei.iuridica.truni.sk/archive/2022/01/SEI-2022-01-Studies-Adamus-Rafal.pdf
Bibliographic Citation
ADAMUS, R. Polish Draft Law on "Family Foundations". Societas et iurisprudentia [online]. 2022, vol. 10, no. 1, pp. 19-35 [cit. 2020-01-01]. ISSN 1339-5467. Available at: https://doi.org/10.31262/1339-5467/2022/10/1/19-35.