Michal Aláč
Full Text of Paper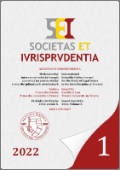 Read paper (PDF)
---
Source Type: Journal
Document Type: Study
Document Language: English
Published on: 31. 3. 2022
File Format: PDF
File Size: 620 kB
In: Societas et iurisprudentia • 2022 • Volume 10 • Issue 1 • Pages 50-65 • ISSN 1339-5467
Abstract: The laws of advanced democracies are often inspired by the Roman law. The Slovak Republic is no exception. In the area of punishment, it is even one of the most important institutes. The institute of necessary defence is based on the principle of vim vi repellere licet and creates conditions for the protection of life, health and property in cases where these are not capable of being ensured by the state authorities. The principle of ne bis in idem provides protection against repeated punishment of the offender for the same act and is one of the greatest guarantees of maintaining legal certainty.
Key Words: Roman Law; Administrative Punishment; Punishment; Principles; Necessary Defence; Presumption of Innocence; the Slovak Republic.
ORCID:

https://orcid.org/0000-0003-4037-8924
DOI: https://doi.org/10.31262/1339-5467/2022/10/1/50-65
URL: http://sei.iuridica.truni.sk/archive/2022/01/SEI-2022-01-Studies-Alac-Michal.pdf
Bibliographic Citation
ALÁČ, M. The Effect of the Roman Law on Punishment. Societas et iurisprudentia [online]. 2022, vol. 10, no. 1, pp. 50-65 [cit. 2020-01-01]. ISSN 1339-5467. Available at: https://doi.org/10.31262/1339-5467/2022/10/1/50-65.