Adrián Jalč
Full Text of Paper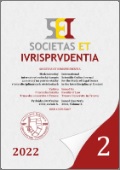 Read paper (PDF)
---
Source Type: Journal
Document Type: Study
Document Language: Slovak
Published on: 30. 6. 2022
File Format: PDF
File Size: 795 kB
In: Societas et iurisprudentia • 2022 • Volume 10 • Issue 2 • Pages 65-92 • ISSN 1339-5467
Abstract: The Convention for the Protection of Human Rights and Fundamental Freedoms (the European Convention on Human Rights) in the Article 6 declares the right to a fair trial which consists of several general guarantees. The presented paper analyses the criminal-procedural position of the accused in terms of decisions of the European Court of Human Rights, the Constitutional Court of the Slovak Republic and the courts in the Slovak Republic. It also tries to compare the given situation with the applicable Slovak legislation.
Key Words: Criminal Law; Law Enforcement Authorities; Courts; Right to a Defense; Principle of the Presumption of Innocence; Right to Personal Liberty; Rights of the Accused and the Victims (Injured Party); the Slovak Republic.
ORCID:

https://orcid.org/0000-0002-3772-9263
DOI: https://doi.org/10.31262/1339-5467/2022/10/2/65-92
URL: http://sei.iuridica.truni.sk/archive/2022/02/SEI-2022-02-Studies-Jalc-Adrian.pdf
Bibliographic Citation
JALČ, A. K judikatúre súdov z pohľadu princípov fair trial. Societas et iurisprudentia [online]. 2022, vol. 10, no. 2, pp. 65-92 [cit. 2020-01-01]. ISSN 1339-5467. Available at: https://doi.org/10.31262/1339-5467/2022/10/2/65-92.