Michał Krawczyk
Full Text of Paper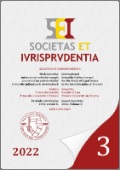 Read paper (PDF)
---
Source Type: Journal
Document Type: Study
Document Language: English
Published on: 30. 9. 2022
File Format: PDF
File Size: 675 kB
In: Societas et iurisprudentia • 2022 • Volume 10 • Issue 3 • Pages 59-76 • ISSN 1339-5467
Abstract: Russia's aggression against Ukraine on February 24, 2022, triggered a migration crisis unprecedented in the Central and Eastern Europe. The mass of refugees from Ukraine moved towards Poland, Slovakia, Hungary and Romania. Most of the refugees, however, ended up in Poland. Both the Polish state and society welcomed the refugees with great openness. Nevertheless, the influx of such a large number of the Ukrainian citizens on the territory of Poland made the authorities responsible for the systemic regulation of their stay, treatment, employment, education in schools, etc. Systemic solutions, in this regard, were adopted in the Act of March 12, 2022, on Assistance to the Ukrainian Citizens in Connection with the Armed Conflict in the Territory of that State. The paper discusses the most important regulations of the act in question.
Key Words: Migration Law; Migration Policy; Refugees; War; Ukraine; Poland.
ORCID:

https://orcid.org/0000-0003-3923-3576
DOI: https://doi.org/10.31262/1339-5467/2022/10/3/59-76
URL: http://sei.iuridica.truni.sk/archive/2022/03/SEI-2022-03-Studies-Krawczyk-Michal.pdf
Bibliographic Citation
KRAWCZYK, M. Migration Policy of the Authorities of the Republic of Poland in Connection with the Crisis Caused by the War in Ukraine in the Light of the Act on Assistance to the Ukrainian Citizens. Societas et iurisprudentia [online]. 2022, vol. 10, no. 3, pp. 59-76 [cit. 2020-01-01]. ISSN 1339-5467. Available at: https://doi.org/10.31262/1339-5467/2022/10/3/59-76.