Małgorzata Grześków
Full Text of Paper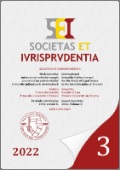 Read paper (PDF)
---
Source Type: Journal
Document Type: Study
Document Language: English
Published on: 30. 9. 2022
File Format: PDF
File Size: 788 kB
In: Societas et iurisprudentia • 2022 • Volume 10 • Issue 3 • Pages 34-58 • ISSN 1339-5467
Abstract: The paper discusses the issue of the fine line between fictitious employment and discrimination. The presented study is a reflection from the Polish perspective. The purpose of this paper is to present the Polish regulation and authorities' practices concerning the entitlement of women who began employment during pregnancy to social security benefits. The manuscript emphasizes that pregnancy does not create any presumption of fictitious employment, and the refusal to grant social security benefits to such women often leads to discrimination.
Key Words: Labour Law; Discrimination; Employment Fiction; Employment of Pregnant Women; Social Security; Poland.
ORCID:

https://orcid.org/0000-0002-8449-898X
DOI: https://doi.org/10.31262/1339-5467/2022/10/3/34-58
URL: http://sei.iuridica.truni.sk/archive/2022/03/SEI-2022-03-Studies-Grzeskow-Malgorzata.pdf
Bibliographic Citation
GRZEŚKÓW, M. The Border between Employment Fiction and Discrimination: Reflection on the Employment of Pregnant Women from the Polish Perspective. Societas et iurisprudentia [online]. 2022, vol. 10, no. 3, pp. 34-58 [cit. 2020-01-01]. ISSN 1339-5467. Available at: https://doi.org/10.31262/1339-5467/2022/10/3/34-58.