Gabriela Halířová
Full Text of Paper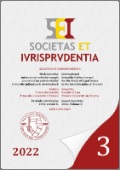 Read paper (PDF)
---
Source Type: Journal
Document Type: Study
Document Language: Czech
Published on: 30. 9. 2022
File Format: PDF
File Size: 731 kB
In: Societas et iurisprudentia • 2022 • Volume 10 • Issue 3 • Pages 77-95 • ISSN 1339-5467
Abstract: The paper deals with the concept of "child upbringing" by a parent in the pension insurance. First, attention is paid to which persons are considered to be the parents of a raised child, then the fulfilment of the condition of the child's upbringing is analysed for the purpose of determination of the retirement age of women as one of the conditions for the entitlement to an old-age pension. The individual aspects of a child's upbringing are described in selected court decisions. From year 2023, upbringing of a child also plays a role in increasing the old-age pension. In this context, a discrepancy in the legal regulation in the assessment of children who died at a young age is pointed out. The reasons for the emergence of this contradiction are analysed, undesirable effects in determining the retirement age of women are pointed out and possible solutions are outlined.
Key Words: Social Security Law; Old-Age Pension; Upbringing of a Child; Personal Care of a Child; Child's Parent; Taking the Child into Care Replacing the Parental Care; Husband's Child; Retirement Age of Women; Increase in Old-Age Pension; Court Decisions; the Czech Republic.
ORCID:

https://orcid.org/0000-0002-2284-594X
DOI: https://doi.org/10.31262/1339-5467/2022/10/3/77-95
URL: http://sei.iuridica.truni.sk/archive/2022/03/SEI-2022-03-Studies-Halirova-Gabriela.pdf
Bibliographic Citation
HALÍŘOVÁ, G. Výchova dítěte rodičem pro účely stanovení důchodového věku a zvýšení starobního důchodu. Societas et iurisprudentia [online]. 2022, vol. 10, no. 3, pp. 77-95 [cit. 2020-01-01]. ISSN 1339-5467. Available at: https://doi.org/10.31262/1339-5467/2022/10/3/77-95.