Agata Opalska-Kasprzak
Full Text of Paper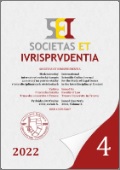 Read paper (PDF)
---
Source Type: Journal
Document Type: Study
Document Language: English
Published on: 31. 12. 2022
File Format: PDF
File Size: 716 kB
In: Societas et iurisprudentia • 2022 • Volume 10 • Issue 4 • Pages 36-54 • ISSN 1339-5467
Abstract: Conditional discontinuation of the proceedings is a probation measure enabling perpetrators of minor offenses to avoid conviction and punishment. Under the currently applicable provisions of the Polish law, conditional discontinuation of the proceedings is one of the three measures related to putting the perpetrator on trial. The use of the described probation measure is possible only in the case of cumulative fulfilment of the conditions specified in the Article 66 of the Polish Penal Code. One of them is the so-called positive criminological forecast, which consists of many elements related to the perpetrator, because only the characteristics of the perpetrator strictly defined in the corresponding provision may determine the prognosis. The general point is to drop the conviction and, at the same time, to punish the perpetrator of the crime. The measure in question is only optional and may only be ordered by a court judgement.
Key Words: Criminal Law; Positive Criminological Forecast; Probation; Conviction; Punishment; Penal Code; Poland.
ORCID:

https://orcid.org/0000-0002-4872-0715
DOI: https://doi.org/10.31262/1339-5467/2022/10/4/36-54
URL: http://sei.iuridica.truni.sk/archive/2022/04/SEI-2022-04-Studies-Opalska-Kasprzak-Agata.pdf
Bibliographic Citation
OPALSKA-KASPRZAK, A. Positive Criminological Forecast as a Premise for Conditional Discontinuation of the Proceedings. Societas et iurisprudentia [online]. 2022, vol. 10, no. 4, pp. 36-54 [cit. 2020-01-01]. ISSN 1339-5467. Available at: https://doi.org/10.31262/1339-5467/2022/10/4/36-54.